The Dr. Seymour Alpert Lecture, held annually, discusses topics of interest in the field of Anesthesiology. Check back for details about the next lecture.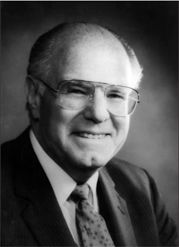 Dr. Seymour Alpert served The George Washington University for 35 years as a physician, professor, and executive. The Dr. Seymour Alpert Chair in Anesthesiology, an endowed fund established in 1983 through the generous donations of colleagues and friends, serves as a permanent tribute to Dr. Alpert's outstanding contributions in the medical field. The Dr. Seymour Alpert Annual Lecture, funded by the late Dr. Alpert and his wife, the late Cecile Alpert, furthers his dedication and commitment to the medical profession and GW.
Dr. Alpert graduated from Columbia University in 1939 and earned his medical degree from the State University of New York Health Sciences Center in Brooklyn in 1943. He joined The George Washington University Hospital in 1948 - the year it opened its doors at its former location at 23rd and I Streets - as a faculty member in the Department of Anesthesiology. He became a full professor in 1961 and continued to teach until 1983. In 1969, while teaching, he was appointed Vice President for Development, a position he held until his retirement from the University in June, 1983. Upon his retirement, he was named Professor Emeritus of Anesthesiology and Vice President Emeritus for Development. In 1984, the University awarded Dr. Alpert an Honorary Doctor of Laws Degree.
As a lifetime community activist, Dr. Alpert left a lasting mark on the face of the greater Washington, DC area. His awareness of community needs and his exceptional organizational ability led to his involvement in many initiatives, which today are the pillars of some of Washington's social structures. He was president of the Jewish Federation of Greater Washington; trustee of the United Jewish Endowment Fund; member of the Board of Governers of The Hebrew University; member of the Board of Managers of Adas Israel Congregation; treasurer of the Cosmos Club and chairman of its Historic Preservation Foudation; member of the Board of Governors of State of Israel Bonds; member of the Executive Committee of the Jewish Communicty Council; and member of the Board of Directors of the United Way.
Dr. Alpert was recognized with many honors for his commitment to these organizations. Among the most distinguished were: Man of the Year Award from State of Israel Bonds in 1964, Torch of Learning Award from the American Friends of The Hebrew University in 1975, Medical Award from the United jewish Federation in 1980, and State of Israel Bonds Salvador Dali Menorah Award in 2001.