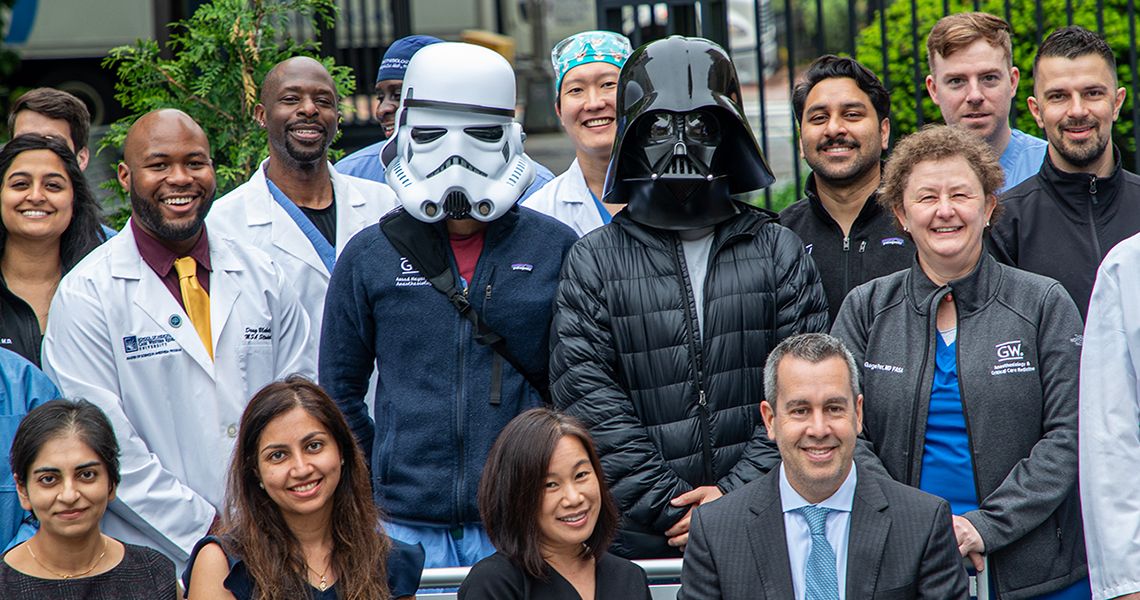 Train at GW for Your Anesthesiology Residency
The anesthesiology residency training program at the George Washington University School of Medicine and Health Sciences represents the highest quality in residency training for aspiring anesthesiologists.
Why GW?
Working with state-of-the-art equipment and facilities, residents are trained in a collegial environment among a staff that fosters education and growth as they hone their specialty as consultant anesthesiologists. Experts in all sub-specialty areas are eager to teach residents in the operating rooms of our three, esteemed institutions: George Washington University Hospital, Children's National Health System (pediatric anesthesiology rotation) and the DC Veterans Affairs (VA) Hospital (elective cardiac anesthesiology rotation). Furthermore, we adhere to adult learning principles in curriculum design, offering meaningful learning opportunities in:
Journal Clubs
Human and Cadaveric Models for Ultrasound-guided Anatomy Workshops
Mock Oral Examinations
Practice Management Featuring: Lawyers, Consultants and Financial Planners
Problem-Based Learning Discussions
Simulation
Standardized Patient Actors
The Accreditation Council for Graduate Medical Education (ACGME) has accredited the anesthesiology training program at George Washington University since 1951.
Residents in our program are among the top-scoring nationally on USMLE examinations. They are highly motivated and interested in pursuing their education in a dynamic, collegial environment that regularly challenges their mental and physical abilities.
What Can I Expect from the GW SMHS Anesthesiology Residency Program?
Residency commences with intensive 1:1 coverage with attending faculty and an introductory, eight-week lecture series. Additionally, residents participate in an extensive mentoring system, allowing junior residents to pair up with senior residents and faculty advisors. As the program progresses along with experience, residents take on increasing responsibilities and independence, such as senior residents being eligible to run the OR board to test their management skills.
All GW residents participate in research throughout their training, mentored throughout the process by SMHS faculty. Most residents travel to national conferences to present abstracts of their work, and several have won national research awards, with a few publishing manuscripts during residency training. Additionally, GW residents become comfortable with high-quality didactic presentations, speaking at Grand Rounds, and resident lecture series as a part of training.
The program is always changing and adapting to meet the needs of its residents through its annual residency retreat, preparing GW to meet new challenges such as Milestones or the ACGME's Next Accreditation System (NAS).
GW'S Facilities and Resources
The GW Hospital runs 19 operating rooms in the main suite with five additional ambulatory ORs and seven other operative locations such as endoscopy, cardiac catheterization lab, electrophysiology, interventional radiology, in-vitro fertilization, and general radiology. Children's National Health System boasts an additional 40 operative locations with cutting-edge clinical and research opportunities. The George Washington University Hospital is a Level I Trauma Center. Surgical cases tackle the most challenging medical ailments with cutting-edge technology. The hospital utilizes three Divinci Robots for urologic, thoracic, and gynecologic surgery. Neurosurgical interventionalists perform awake craniotomies and major vascular surgery while cardiac surgeons routinely perform "off-pump" operations. We proudly boast a regional transplant program, furthering our reputation as a regional leader in our nation's capital.
Intensivists, all members of the Department of Anesthesiology and Critical Care Medicine, manage all ICU beds in the George Washington University Hospital as a "closed" unit that combines medical and surgical patients. Anesthesiologists at our institutions are consistently rated among the best in metropolitan Washington, D.C.
Sincerely,
Ryan Keneally, MD, FASA
Associate Professor
Program Director and Vice Chair for Education
RKeneally@mfa.gwu.edu
Gregory Moy, MD
Assistant Professor
Associate Program Director
GMoy@mfa.gwu.edu
Laura Roland, MD
Assistant Professor
Associate Program Director                                                                                                                LRoland@mfa.gwu.edu
---
For more information, please contact:
Inga Ricks
Residency Program Coordinator
(202) 994-7903