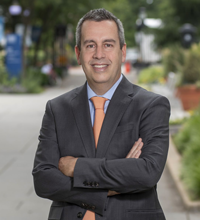 Dear GW Community:
I am thrilled to serve as the 5th Chair of the Department of Anesthesiology & Critical Care Medicine at The George Washington University School of Medicine & Health Sciences.
The vision I hold for the Department of Anesthesiology & Critical Care Medicine at The George Washington University will build on the legacy of an institution-wide tradition of innovation and service. The Department of Anesthesiology at GW University Hospital was established in 1947 and, in its infancy, consisted of three physicians: Dr. Lloyd Mousel, Dr. Seymour Alpert and Dr. Charles Coakley. The residency program was established two years later in 1949, by the first Chair, Dr. Coakley. Through the years, our Department has grown to support top-rated programs for anesthesiology residency, pediatric anesthesiology fellowship and critical care medicine fellowship. Our care team includes of over 100 faculty, advanced practice providers, nurses, technicians, researchers and administrative staff from GW and Children's National Hospital.
The Department has earned local, national and international recognition for numerous accomplishments:
First in the D.C. area to use physiologic monitors in the operating rooms (1956)
First computerized anesthesia records and data storage in the U.S. (1964)
First separate facility in a hospital for ambulatory surgery (1966)
Introduction of the APACHE severity of disease classification (1981) - Dr. Jack Zimmerman, former Director of Critical Care Medicine, collaborated with other GW Intensivists to introduce the APACHE severity of disease classification system, the most cited system for classifying critically ill patients
Successful resuscitation of President Ronald Reagan after he was shot by John Hinkley Jr. in 1981, making Reagan the first president to survive an assassination attempt
Dr. Burton Epstein served as Chair from 1984 until 1990, at which time Dr. Herbert Weintraub assumed the role of Interim Chair. Michael Berrigan, MD, PhD, became Chair in 1997 and guided the Department's growth until 2018. I am proud to say that I was personally mentored by three of the four former Chairs of GW Anesthesiology, and I hope to continue their proud tradition of clinical excellence and innovative, patient-centered practice.
While today's academic health centers face a multitude of challenges, the future of GW Anesthesiology and Critical Care Medicine appears bright. It is my privilege to serve as Chair. I look forward to serving our strong team of academic clinicians, and continuing to build upon our tradition of excellence by expanding upon clinical subspecialization, fellowship programs, translational research, and the team care model. I aim to ensure that your experience with GW Anesthesiology and Critical Care Medicine exceeds your expectations in all respects.
Sincerely,
Jeffrey S. Berger, MD, MBA, FASA
Seymour Alpert Professor & Chair