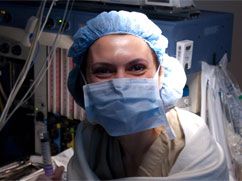 Our department has a very active acute pain service since many operative procedures are performed using combined regional and general anesthetic techniques. CA1 residents are assigned to a 1-month block in Acute Pain Management supervised by Faculty. During the rotation, residents become facile at assisting with all types of regional anesthetic blocks. Residents also gain extensive knowledge in the use of local anesthetic and opioid combinations to provide postoperative pain relief.
Residents round on the Acute Pain service, work up new consultations and assist with regional anesthetic placement. The service is run with the help of an Acute Pain Nurse to ensure smooth transitions and allow residents to focus on clinically important aspects of acute pain management. Residents are also responsible for presenting a journal club article in the acute pain sub-specialty during the rotation.
CA-2 and CA-3 residents tend to the needs of the acute postoperative pain service as a part of evening call responsibilities.