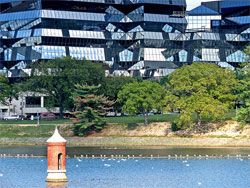 The Department of Pediatric Anesthesiology of The George Washington University is located at Children's National Health System. Despite being separated geographically, the Department of Pediatric Anesthesiology is integrated with the Department of Anesthesiology and Critical Care Medicine located on the main campus. Children's National Health System is a highly regarded national and regional referral center with outstanding clinicians. Many of the faculty in the Department of Pediatric Anesthesiology are board-certified in both pediatrics and anesthesia.
Training in Pediatric Anesthesia consists of a two-month rotation at Children's National Health System during the CA-2 year, and an additional one-month rotation during the CA-3 year. Residents provide anesthesia for a variety of surgical procedures on both healthy children and those with uncommon coexisting diseases. Typical caseload averages 60 cases per month and includes all types of general surgery, neurosurgery, orthopedics, urology, ophthalmology, and ENT. Anesthesia services are also required in such non-operative locations as radiology, the cardiac catheterization laboratory, and endoscopy suites. The patient population encompasses the extremely premature to the young adult with such disease entities as cystic fibrosis, malignant hyperthermia susceptibility, severe burns, and craniofacial anomalies. Regional anesthetic techniques for postoperative analgesia are emphasized.
An outstanding didactic conference schedule complements the clinical training. Daily lectures are held from 6:30-7:30 a.m. and are given by faculty who are nationally recognized experts in the field.
For those who wish to advance their skills and knowledge in Pediatric Anesthesiology, up to six months of pediatric anesthesiology is offered to CA-3 residents in our training program.
A twelve-month ACGME accredited Fellowship (CA-4 year) which is highly sought by residents from all over the country is also offered. Residents at this level combine clinical, supervisory, and teaching responsibilities with the management of more advanced cases including Pediatric Cardiothoracic Surgery