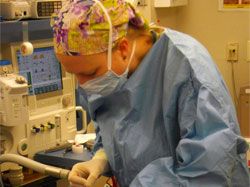 The Chronic Pain Service has a close working relationship with the departments of neurosurgery, orthopedic surgery, medicine, and neurology and receives a large number of patient referrals from these specialists. CA-2 residents spend one month in this subspecialty where they learn how to examine, assess, and treat patients with chronic pain syndromes.
Over 2,000 procedures are performed annually including lumbar and cervical epidural steroid injections, celiac plexus and stellate ganglion blocks, lumbar sympathetic blocks, and trigger point injections. Neurolytic blocks are also performed on a large number of oncology patients who present with intractable pain.
Additional months are offered to CA-3 residents who would like additional, advanced training in Chronic Pain Management.
A Pain Management Fellowship application is currently pending with the Graduate Medical Education Office.