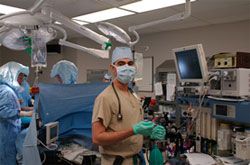 The PACU is a required elective for CA-2 residents in Anesthesiology at the George Washington University School of Medicine and Health Sciences. It consists of two contiguous weeks providing physician services in the PACU and satisfying specific academic requirements.
This rotation allows the resident to become familiar with the recognition and treatment of common post-operative problems. Knowledge of the standards of monitoring and care of PACU patients is required, as is the eligibility criteria for discharge of the patient to home or to a hospital unit. Skills in working with PACU staff and surgical colleagues in order to provide for the safety and comfort of post-surgical patients will be developed.
A broad knowledge base will be developed through required reading from a syllabus, and lectures and problem-based learning discussions with Anesthesiology faculty. Anesthesiology faculty in a supervisory role will provide guidance and education.