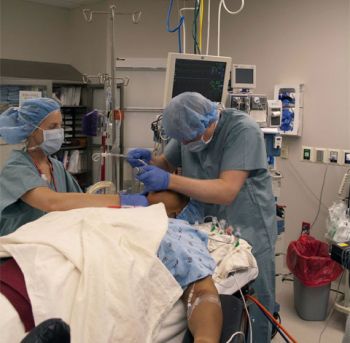 Anesthesia for General surgery is a core rotation for CA-1 and CA-2 residents in anesthesiology at George Washington University Hospital. It consists of 1-month blocks in the main suite of 14 operating rooms on the 2nd floor of George Washington University Hospital. Presently, six months of the first year, and four months of the second year of anesthesiology training are devoted to this rotation.
In total, residents administer over 12,000 anesthetics annually at this clinical site, consisting mainly of laparoscopic, urologic, gynecologic, breast, plastic, otolaryngology and orthopedic cases.
The goal of the rotation is to develop the skills and the knowledge required to safely administer anesthesia and to manage the perioperative care of the general surgical patient. The General OR CA-1 and CA-2 rotation requires that residents obtain competencies in: patient care, medical knowledge, practice-based learning and improvement, interpersonal and communication skills, professionalism, clinical skills and systems-based practice.