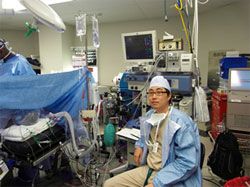 Residents spend a compulsory one-month rotation performing anesthesia for a variety of neurosurgical procedures including routine craniotomies, stereotactic brain biopsies, cerebral aneurysm clippings, transphenoidal hypophysectomies, "awake" craniotomies, and spinal fusions. In addition, a specialized team of neurosurgeons at The George Washington University Hospital performs skull-based craniotomies for lesions in these anatomically difficult locations. These procedures require sophisticated anesthetic techniques such as burst suppression, controlled hypotension, and hypothermia for cerebral protection.
Occasionally, total circulatory arrest is used. The resident also learns monitoring techniques specific to neuroanesthesia such as precordial doppler ultrasound for venous air embolism, somatosensory evoked potentials (SSEP), brain stem auditory evokes responses (BAER), EEG, and EMG.
Six months of Neuroanesthesia is offered to CA-3 residents who wish to gain more experience in this subspecialty. CA-3 residents acquire a greater depth of knowledge of neuroanesthesia, have supervisory responsibility over junior residents, and participate in clinical research.